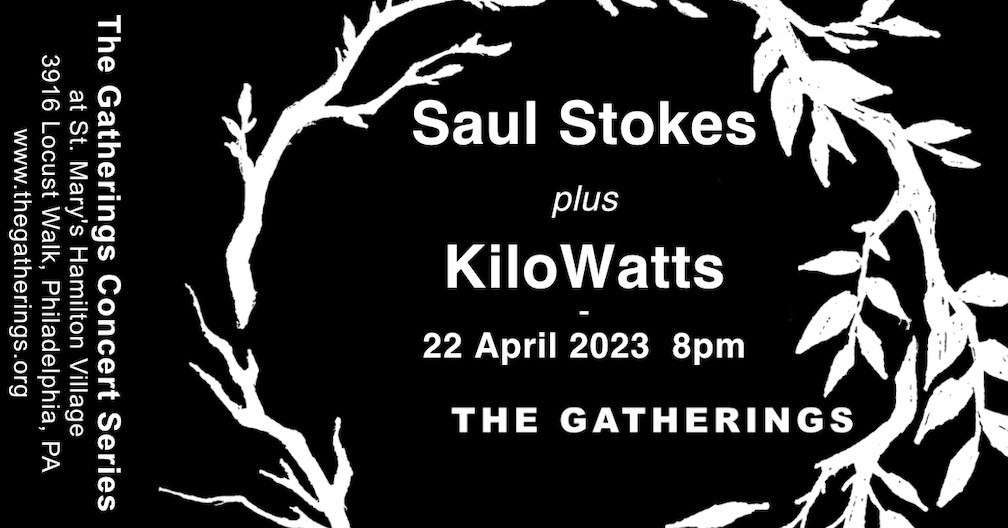 SAUL STOKES plus KILOWATTS
Saturday, April 22, 2023.

SAUL STOKES:
The sensitive ear of the sincere listener will acknowledge the live, vibrant timbres present at every level of works by Saul Stokes. He is not arranging for the dance floor, but for the place in the mind where sensory detail becomes thought. The limit of effect is merely the limit of the musician's imagination. Versatile, alluring and inventive, with a fine ear for every novel discharge of the great modulators, Saul Stokes makes music for all time.

This music cannot be realized outside the intimacy of the live environment. The immediacy of the moment, the consistent pattern of change and the spark of inspiration all act upon Stokes, as he produces continuous currents of sound for his spellbound audience. This venue, and its patrons, have become known for revealing to musicians what they are capable of - and believe that a new idea in music is worth the challenge to make it.

If we think of this music as electrical, a thing made of electricity, then we find it to be always remaking itself - transforming in every instant, yet continually preserving its conception. From moody and psychological to juicy and exuberant, Stokes revels as equally in tightly arranged progressions as he does in timeless amorphous drones.

Buzzing lead melodies provide a lovely voice in which to deliver a message of renewal, while gentle mental beats and grooves move these compositions into the realm of intriguing thought experiment. Unique tones, novel arrangements, comprehensive synthesis and Stokes' joyful intensity provide fuel for the listener's aural adventures.

KILOWATTS:
Whether expressing the warmth of the heart through lush chords and melodies, or engaging extraterrestrial aliens through twisted granular tractor-beams, KiloWatts (alias EM Jamie Watts) is committed to sharing music with the world, and beyond. His live set for The Gatherings Concert Series presents the Ambient Music side of this renowned artist.