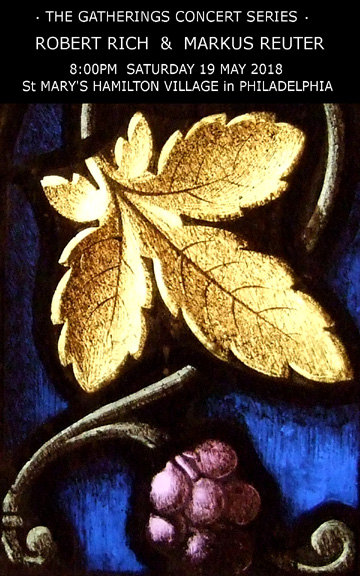 ROBERT RICH and MARKUS REUTER plus TIM MOTZER
Saturday, May 19, 2018.

RICH/REUTER Art can offer redeeming metaphors, even in the face of unsurmountable adversity. Like Cervantes' Don Quixote, an artist can maintain ridiculous ideals of hope and virtue, while seeming a fool to those watching. The act of making art is pointless, meaningless, like lifting a feather to a flood (or tilting at windmills); yet it is all that musicians like Robert Rich & Markus Reuter know how to do - because it is this very meaningless act that gives meaning to life in the poetical sphere. It is a shamanic act of healing the spirit in the knowledge of certain mortality.

The album Lift a Feather to the Flood is the result of the editing down of three hours worth of studio improvisations between Rich & Reuter from their January 2017 sessions. An all acoustic album, its focus is on making each piece ambiguous, and asking listeners to delve into this music and have us think while listening. It is believed that with this type of music, each listener is guided into a personal space where they may become more alive.

Much of Lift a Feather to the Flood is quite sparse, very inquisitive, and somewhat open ended. There are no easy answers or easy melodies, nor does it conform to an easy form. Yet, while sometimes it may seem uncomfortable, this work is never meant to be confrontational.

In May of 2018 Robert Rich & Markus Reuter will embark on a brief concert tour. Each stop will provide this duo with an opportunity to delve deeper into a new set of the explorations first encountered in the making of Lift a Feather to the Flood. With Rich at the grand piano, and Reuter breathing out atmospheres and textures from his touch guitar and synthesizer, this duo will realize subtle thought zones meant for pondering and questioning - more so than assurance and confirmation.

TIM MOTZER Guitarist/improviser/composer Tim Motzer lives in a technicolor world of music. He is known for his distinct textural guitar voice utilizing looping, bowing, electronics, and prepared techniques. After 20 years of world touring, stunning collaborations, and over 80 albums of credits, this Philadelphia-based guitarist continues to traverse manifold territories in music. In 2016-18, Tim toured the world playing concerts and jazz festivals in Tokyo, London, Europe, Scandinavia, and the United States with Bandit65, an improvising trio he co-leads with guitarist Kurt Rosenwinkel and drummer Gintas Janusonis. He has collaborated with numerous musical luminaries: David Sylvian, Burnt Friedman, Jaki Liebezeit (of CAN), poet Ursula Rucker, King Britt, Jamaaladeen Tacuma, Markus Reuter, and Pat Mastelotto among others. In modern dance, Motzer composes and performs live solo scores around the world. He composes for film and video, and is a composer/accompanist for University of the Arts Dance in Philadelphia.

In his solo concerts, Motzer improvises with guitar and electronics creating cinematic landscapes of sound, drones, densities, oblique forms while exploring the unknown. Motzer has performed solo in Tokyo, Seoul, Berlin, Wroclaw, Princeton, Philadelphia, New York, D.C., Toronto, Oujda Morroco, Baltimore, Hackensack, and Galloway among other cities. He has released several solo albums recorded live on various radio broadcasts, and live concerts, including Soak, Unseen Universe, AKA, and Live from Star's End. Chuck van Zyl from WXPN's STAR'S END radio show says Motzer's music "provokes thought and binds genres; it's about the plasticity of time, and how it may be felt as both infinite and finite, elusive and recognizable."